PCV Valve Features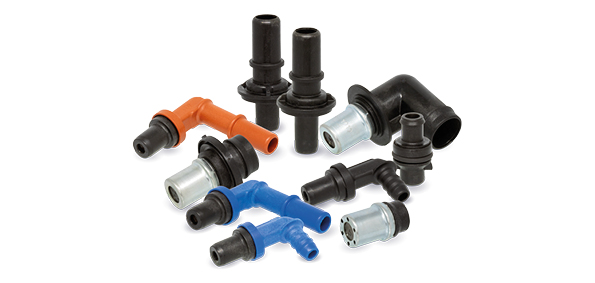 What The PCV System Does


In petrol engines small amounts of combustion gases seep past the piston rings into the crankcase. These crankcase blow-by gases contain undesirable hydrocarbon air pollutants.
To prevent these vapours from escaping into the atmosphere, while allowing proper ventilation of the crankcase, the positive crankcase ventilation (PCV) system is used.
---
How The PCV "Closed" System Functions


The closed PCV system is similar in operating principle to the open system, except... fresh air enters the closed system from the clean air side of the air cleaner or a separate PCV breather filter on the inside periphery of the air cleaner, or in the line from the rocker arm cover to the air cleaner.
The closed system is more effective in preventing air pollution than the open system because it is completely encased. If pressure builds up in the crankcase on an engine with the closed system, such as with plugged PCV valve hose or fittings, the blow-by gases will be forced into the air cleaner. This happens because all other outlets are sealed. When these vapours pass through the air cleaner, they are mixed with fresh air and routed via the intake manifold back into the combustion chamber to be burned.
---
Design Features Of PCV Valves


All PCV Valves are designed to precise customer specifications.
The heat treatment of the PCV Valve orifice and pintle ensures guaranteed durability, thus every PCV Valve maintains its closely-held manufacturing tolerances throughout it's working life. Over time this design has proven itself to be service-free in excess of 150,000km.
The latest designs have PA moulded top connectors allowing the PCV Valve to be friction welded into the engine cam cover assembly, reducing installation costs and eliminating service sealing issues.
---